I think we can all agree that ugg boots are the most comfortable shoes ever made.
They're super soft, they look amazing and best of all - you can stay snug inside your uggs inside and outside the house at almost any time of the year without ever having to purchase another pair of shoes.
Okay, the last claim might have overstepped the mark a smidgen.
But ugg boots are undeniably the most comfortable footwear you can buy.
If you can look after your ugg boots and keep them in good clean shape, they give your outfit the perfect "casual cool" look.
And don't be afraid to rock your uggs all year round without ever getting blisters or sore feet.
1. How to stay comfy and cool wearing ugg boots in Summer
It may not be entirely socially acceptable but wearing ugg boots is totally possible in summer. Remember, there's no more comfortable footwear you will find. So if you can keep your feet cool - why wouldn't you?
The art of wearing ugg boots in hot weather comes down to length.
Short ugg boots are the perfect, casual alternative to ankle boots for a unique nightwear look. Keep it casual and pair your short uggs with cut-off shorts and an oversized top.
It's the perfect loungewear chic for a casual summer evening.
Source: Pinterest
Ashley Tisdale nails the summer ugg trend in short, dark brown boots and an overflowing woolly lining. Pair your uggs with short shorts, a flowy long sleeve top and a takeaway cup of coffee - you've got yourself a page one look right there.
Source: Pinterest
Hailey Baldwin put a twist on the summer ugg by wearing tall fashion boots with contrasting short shorts and a crop top. Mixing lengths and popping an oversized denim jacket over the top makes for a fantastic summer style.
2. How to wear your ugg boots inside and out in Autumn
Wearing ugg boots in autumn should be mandatory.
The weather is starting to get on the chilly side and a nice fresh set of sheepskin boots are a highly sought after commodity. There's absolutely no wrong way to wear your uggs in Autumn, as long as you keep your look dressed down for the right occasion.
Throw on a pair of ugg boots with ripped jeans and a knitted jumper for an effortlessly chic look or go with the flow and pair short or tall uggs with baggy track pants. Your ugg boots are a staple piece in autumn so don't be afraid to find a way to wear them with almost all of your outfits.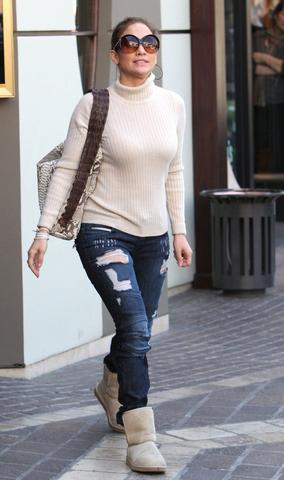 Source: Pinterest
Jennifer Lopez is the queen of cool weather ugg wear. She knows how to accessorise to compliment her casual style: enormous earrings and sunglasses, an effortless bun and a glamorous snakeskin bag perfectly matches her short tan uggs.
Clearly, it's no longer a sin to wear ugg boots in public.
It's a fashion statement and a feet-comforting dream.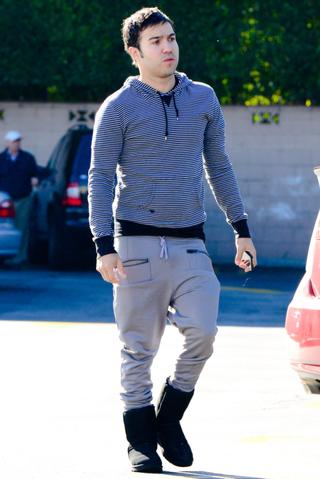 Source: StyleBlazer
Famous bassist, Pete Wentz sets a trendy example with his short black ugg boots and baggy track pants. It just goes to show you fashion can be as effortless as getting out of bed if you can find the right casual pieces to fit your style perfectly.
Matched with a warm hoodie and loose, versatile pants - ugg boots are the most comforting part of the autumn outfit.
3. How to wear your uggs in Winter with a sense of effortless style
Ah, winter.
The undisputed homeland of the ugg boot.
No winter casualwear is truly complete without a set of fluffy, sheepskin ugg boots and an oversized scarf you can double as a blanket. Just throw on a well-tailored trench coat or parka and a beanie knitted with love. Your outfit will be warm your heart, your feet and your soul!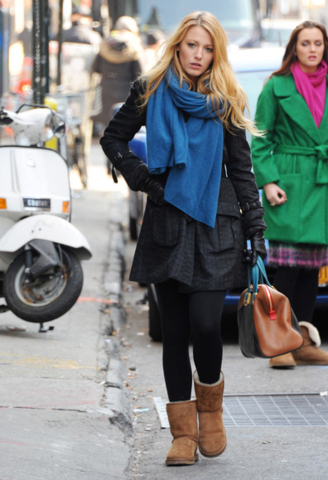 Source: Zimbio
Blake Lively may not look happy to be on set but you can be sure her feet are absolutely loving life. Her short tan ugg boots go well with her multicoloured designer handbag and the colour choice is complimented by her free-flowing hair.
A carefree approach to wearing ugg boots will help you keep your effortless chic amidst the winter warmth.
Source: PopSugar
As PopSugar said, Pharrell Williams' signature fedora is somehow the least interesting thing about his outfit.
His embroidered ugg boots become a brilliant feature piece with his loose-fitting jeans and a simple blue crew neck jumper topping off the perfect men's wintertime outfit.
4. How to keep it fresh and wear your uggs in spring
Spring is the best time to start mixing seasonal pieces, patterns and colours. Have fun with transitioning between tall and short ugg boots as the weather starts to heat back up.
Short ugg boots, ripped jeans and a basic tee is a springtime match made in heaven. Keep it simple or mix it up with interesting statement pieces like florals, grunge style jeans or loads of accessories.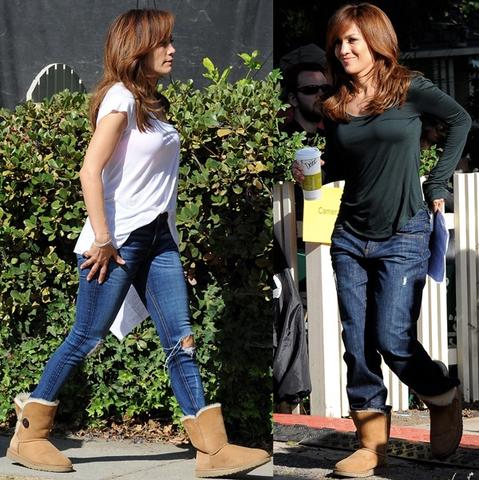 Source: Pinterest
Jennifer Lopez made it into our list twice.
She is the Ugg Style Queen.
You have to respect her dedication to comfort all year round.
Jenny nails the springtime look with buttoned ugg boots. They're the cute alternative to wearing actual shoes and they look right at home matched with dark blue jeans, a white tee and warm spring hues in her hair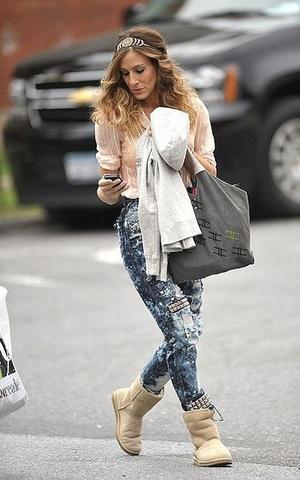 Source: Pinterest
Remember when we mentioned grungy jeans?
Sarah Jessica Parker knows how to style them just right.
She tucks her studded cuffs into her pale ugg boots for that "I don't care" feel, but she mixes things up with a sugar sweet pink tee and regal headband. Combining polar opposite styles and finishing the look with ugg boots will revolutionise your spring.
Stay confident and comfortable in your Ugg boots from January to December
There are endless ways to style your ugg boots.
Our seasonal guide to wearing your boots all year round displays just a few fashion-forward ways you can wear comfortable, carefree footwear.
Just remember: if you're planning on wearing your uggs out and about, make sure to waterproof them and keep them clean. Dirt and scuffs aren't part of the trend so make sure you check out our article on looking after your ugg boots to learn how to keep your most comfortable footwear in tip-top condition.
Check out our full range of comfortable, toasty-warm men's and women's ugg boots, slippers and scuffs to wear year-round. For more information about our range, get in touch at [email protected]
Feature image source: Pinterest